For weeks, there has been a buzz going on in Texas, especially among the urban traveller crowd. Megabus, the low-cost intra-city bus line is starting service in the Texas Triangle on June 19th. With bargain basement fairs and chic new buses featuring wi-fi and chargers, the company has definitely succeeded in garnering some attention. Even for me, the new service was worth a try.
Perhaps the best feature of Megabus is chosen locations for pick-ups and drop-offs. For cities, the bus delivers you right to downtown… the center of transit connections, and everything else for the area.
Or so we thought. Apparently Megabus is having some trouble securing a downtown Dallas location, and have messaged ticket-holders that they will be dropped off in Grand Prairie…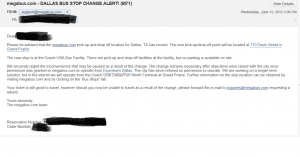 This is no small change in location, especially to travelers whose purpose in using Megabus is due to cost. The Grand Prairie site is 13.3 miles from the original rendevous point. It isn't connected to the DART metro system at all, so now the only remaining option is to seek cab fare from Grand Prairie.
Questions for the Megabus team now abound. Why wasn't this settled with the city long ago? If people have already booked fares, shouldn't there be a mechanism in place to get them at least to the appropriate CITY, if not the exact location? If "permission was granted" to Megabus, isn't the city contractually obligated to keep that agreement? Was the permission ever actually granted?
For some potential riders, this is a big problem, and an indication that Megabus isn't as professional as their ads portray them to be.