Do you hear it??
Off in the distance, there's a big blue stampede starting in Texas.  If you can't hear it yet, just wait until February and March.
For years now, Texas Democrats have been trapped in something of an electoral feedback loop.  Save for a few gerrymandered districts, the party has been unable to gain traction across the state, with virtually no hope of taking a statewide office or gaining a legislative majority anywhere outside of the city hall or county courthouse.  The loop basically works like this… in order to recruit down-ballot candidates to run, Democrats first need to find an inspiring top-ticket candidate.  But the only way to find a top-ticket candidate was for them to rise up from a crop of good down-ballot candidates.
But, as all things seem to be in 2017, new rules abound.  As Ashley Lopez of KUT Austin reports, Texas Democrats are done sitting on the sidelines, and ready to run next year…
In deep-red Texas, Republicans will have to fight for every congressional seat in next year's midterm elections. For the first time in 25 years, Democrats are running in all of Texas' 36 congressional districts, according to documents filed with the Texas Secretary of State's office.

Mark Jones, political science fellow at Rice University's Baker Institute, says those filings set a record for the number of Democratic challengers in an era of Republican dominance, and are a departure from 2016 – when eight Republican-held congressional seats went uncontested by Democrats.

"We are seeing a groundswell of unusually high support and mobilization among progressive Democrats who are really angered by the Trump administration," Jones said.

But, Democrats aren't just gunning for congressional seats. According to preliminary numbers from the Texas Democratic Party, Democrats are running in 89 percent of the seats in the Texas House and 88 percent of the seats in the Texas Senate. Both are the highest percentages the party has mustered since at least 1992.
Though the Secretary of State's office is still awaiting final certification from the Parties, you can view the impressive list of candidate filings here.  If you're not yet registered to VOTE in the March 6th Primary Election, you can get that info at VoteTexas.gov.
Call it anger, inspiration, education… call it what you what.  As 2018 approaches, Texas Democrats seem to have found "it" again.  Finally a blue stampede is on for the Lone Star State.  But whether all of that motivation can finally turn into some results remains to be seen.  But like the big blue skies of a Texas Winter or the bluebonnets of a Texas Spring, hope springs eternal.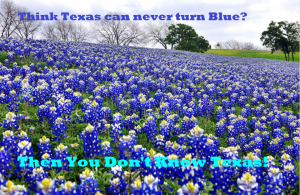 Historic times call for historic activities.  Along with a bigger-then-ever TLCQ 2018 series, Texas Leftist will also be working to report on select races as they unfold.  Keep your eyes and ears ready.