With a quiet confidence and an audience of of the world's best and brightest, the Commander-in-Chief of the United States made history earlier this year in the bustling city of Addis Ababa, Ethiopia. Barack Obama became the first sitting US President to address the African Union.  Here's more from The Africa Report…
US President Barack Obama advised African leaders to respect their constitutions and condemned those who refuse to step down when their terms end, in an historic address to the African Union, in Addis Ababa, on Tuesday.

Obama's speech, the first by a sitting President of the United States at the AU, acknowledged progress Africa has made, ranging from a decline in HIV case to attracting increased foreign direct investment to the continent.

But he told the African Union that these gains rest "on a fragile foundation".

"Africa's progress will also depend on democracy, because Africans, like people everywhere, deserve the dignity of being in control of their own lives," he said.
The remarks were the culmination of a landmark visit which also brought the President back to his father's homeland of Kenya, and several meetings with leaders from across the continent.
His speech to the African Union may have leaned towards governance, but while in Kenya, Obama made some significant progress towards economic ties with the rapidly-rising nation and it's neighboring economies.  As Jake Bright of Fortune magazine reports, new business opportunities are literally booming across the continent…
After a decade of rapid economic growth, a fast-rising African consumer class is expected to wield over $1 trillion in annual spending power by 2020. Foreign aid in Africa is being overshadowed by record increases in foreign direct investment, up 42% between 2008 and 2014, to $55 billion. Over the last two years, countries such as Nigeria, Kenya, and Ethiopia have gained sovereign credit ratings and issued global government bonds now included in the portfolios of funds like PIMCO. And Africa's stock markets are capitalizing and digitizing, as many of them partner with exchanges such as NASDAQ to adopt the latest trading platforms.

[…]

A major area attracting talent and U.S. investment is Africa's emerging tech sector, which is most strongly associated with Kenya. The East African nation of 44 million has become the continent's unofficial tech capital, dubbed "Silicon Savannah" for its advances inmobile money, tech incubators such as iHub, and local IT innovations such as the Ushahidi crowdsourcing platform and solar powered BRCK mobile Wi-Fi device that are finding applications in the U.S.

Kenya's tech status has inspired a startup boom across the continent, led by many young African entrepreneurs with strong U.S. ties who are connecting ventures to American investment.
So what could all of these new inroads to the African continent mean for Texas metros like Houston?
Two words… trade missions.
As Houston Mayor Annise Parker has shown during her time in office, following Obama's lead on international opportunities can have positive reverberations in the local economy.  The new economic ties with African nations can be utilized with all of the other important connections shared between the vast, diverse continent and the rapidly diversifying Lone Star State.  With its plethora of international flights, huge energy and medical research sectors, and established African immigrant communities, Houston seems a natural fit for these routes of growth.  But booming Tech sectors and an expanding need for digital expansion stands to benefit cities like Tech-savvy Austin as well.
Whether they agree with his politics or not, cities across Texas would be wise to follow this segment of Obama's legacy.  It's an important message for the next Mayor of Houston, and other state metros.
Let's hope that state leaders see the growing potential that lies with the people of Africa.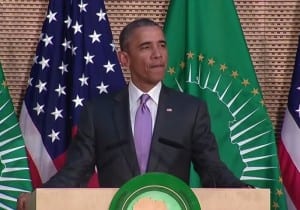 (photo credit:  WhiteHouse.gov)