Houston summers can seem endless, but in reality, we're marching through it quite fast. And nowhere is that calendar time more apparent than in the minds of our local municipal candidates. They see the hot days ticking away, and know that we're under 4 or so months from the November elections, and 90 days from when the first votes are cast. In every corner of Houston, you'll find candidates shaking hands, holding up signs, giving speeches, and doing all of the necessary activities local politics requires.
As Texas Leftist, I intend to cover much of the inner workings of Houston's 2013 elections. But there's one race I am pledged to stay out of on this blog, and that is Houston City Council, At- Large Position 3. The reason is because I am working for Candidate Jenifer Rene Pool, and I wanted to share why.
Pool's background is in the Construction industry. Her father owned a company that built roads, water and sewer lines, and buildings throughout Houston and Southeast Texas. After working under his wing, she went on to work for other prominent Construction firms in the region, and now owns her own consulting business. She knows the city's vast maze of permitting codes, and wants to help streamline and simplify that process for citizens.
Because of her background in the field, one of Jenifer's primary concerns is improving Houston's infrastructure. Everything that is done in a modern city depends on its infrastructure. You can't get to your job without good roads to drive, walk or bike on, and neither can anyone else. Houston's very prosperity depends on the success and maintenance of our infrastructure. But some roads have fallen into such disrepair, that they end up costing Houstonians millions of extra dollars in vehicle repair. And roads are just the beginning… some sidewalks across the city haven't been repaired in decades. Many of those same areas are where poor citizens, Seniors and other non-drivers live. And those are the people that depend on safe, passable sidewalks the most. Jenifer wants to change this, and have Houston make infrastructure a real priority again.
"We passed an issue where the city of Houston could raise money for infrastructure repairs. That's wonderful… I believe in paying 'as you go', and the bond has given us an effort to do that. But it comes down to a point of priority. Where I visit and talk to people, the repairs are not there. Their streets and sidewalks have not been repaired in 30 years, leaving Seniors having to walk in the streets. Last year, 5 Seniors were hit by cars because their only means of transportation, the sidewalks, were in complete disrepair. If we're going to build a better Houston, we have to start from the ground up, and give proper infrastructure access to all Houstonians." said Jenifer at a recent public event. As the city continues to wrestle with it's rapidly developing future, Jenifer's wealth of experience seems a necessary voice in Council.
Along with infrastructure, Jenifer cares about equality for all of Houston's citizens. As an openly transgender woman, candidacy is an historic one. If elected, she would become the first transgender person to hold office in a city of more than one million people. That would be the highest elected office held by any known transgender person to date. Of course, that's not why she's running, but it is an important part of her candidacy to recognize. She has been a leader in Houston's LGBT community, having served as a past President of the Houston GLBT Political Caucus, and as the 2012 Pride Marshal in Houston's Pride Celebration.
Yesterday at City Hall, Jenifer Rene Pool made her official entry into the At-Large 3 race. Here's coverage from TransGriot…
"She's been hard at work at it for several months, but yesterday Jenifer Rene Pool made it official and announced her candidacy for the Houston City Council At Large Position 3 seat on the steps of Houston City Hall. And yeah, some blogger y'all know was there for the announcement a little after 3:30 PM CDT. I wanted to be there to witness Houston and trans history."
Which is also why I've chosen to write today. As a citizen blogger, I try to cover most issues from observing, yet opinionated perspective. But I chose to work for Jenifer Rene Pool's candidacy during the At-Large 3 race. I'm officially a campaign volunteer… not getting paid, but I help out with phone calls, block walks, and try to use my skills to advance her cause. Respectfully, I will not be covering the At-Large 3 race for Houston City Council on the Texas Leftist blog. Instead I would highly encourage readers to check out awesome coverage from Off the Kuff and Texpatriate to keep up with this city race. I do still plan to weigh in for other local races though.
Lastly, this post is not an endorsement, but just a recognition of why I've chosen the path of getting involved for this race. Sometimes when you believe in someone, you have to step in, work hard and see if you can make a difference. I know that if elected, Jenifer Rene Pool would be a monumental asset to Houston City Council. I want better streets and sidewalks in my neighborhood and everywhere I need to go, and she does too. If you're a Houston voter, I encourage you to check out all of the candidates running, and make the best decision for you.
Me? I'm In for Jen.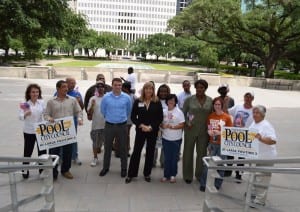 (Jenifer Rene Pool's official announcement at City Hall… July 11th, 2013)
This post is NOT an endorsement.