When most Houstonians leave the house to traverse the city, the overwhelming mode of transportation is by car. It shouldn't surprise anyone that most people in the Houston metropolitan area have never even taken public transit. If they have, it was probably in a limited capacity. Houston is the definition of a "car city".
But even if progress is slow, it's still happening just the same. The latest report from the American Public Transportation Association (APTA) reveals that some Houstonians are at least beginning to discover that our public transit system is usable for more than the rodeo. From 2012 to 2013, Houston's overall public transit ridership increased by 2.76%. Though not a huge number, it is the largest transit ridership growth of any major city in Texas. Dallas, San Antonio, El Paso and even ultra progressive Austin all saw declines in transit ridership.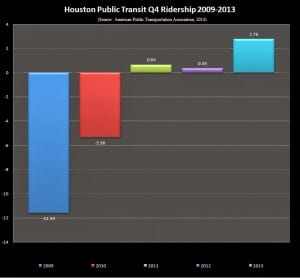 The numbers are even more surprising when examined by mode of transit. It's clear that Houston's bus system is leading the way in this growth. Bus ridership alone grew by a healthy 3.44% between 2012 and 2013, putting Houston 2nd in the nation for highest increase in bus system usage. Only Washington DC's bus ridership increased faster than the Bayou City at 3.45%.
Many bus riders are starting to see a change in Houston METRO services, including more new busses on the road, more predictable travel planning thanks to new innovations like METRO's T.R.I.P. app, and increased numbers in the seats. As was discussed recently on Houston Matters, there are some surprising intrinsic benefits to public transit use.
For all of the focus that Houston has put on rail transit, including the recent opening of the North Line, ridership on Metro Rail was actually down by 0.72%. Granted, the North Line occurred only 10 days before the close of 2013, so we'll have to wait for next year's report to see any true effect on those numbers. But the heart and soul of Houston mass transit system is certainly busses, and it's good to see growth in that area.
Off the Kuff has a broader take on this interesting report.