Even those with the toughest jobs need some regular ways to unwind and escape.  That includes the nation's best known elected official.
In the midst of what is surely a much needed summer vacation, President Obama has given the people a quick ear into some of his current favorite sounds.  The 2016 Summer Playlist dropped via his @POTUS Twitter account.
Here's more from Rolling Stone…
President Barack Obama has shared his 2016 summer playlist, which boasts a wide array of artists from Jay Z, D'Angelo and Nina Simone to the Beach Boys, Courtney Barnett and Caetano Veloso.

Like last year, Obama organized his tracks into two collections — songs for daytime and nighttime — and both are available to stream on Spotify.
From Wale and Charles Mingus in the Daytime, to Ledisi and THE Janet Jackson in the Nighttime, the President's Jams are definitely legit.  Peep the full list directly from the White House.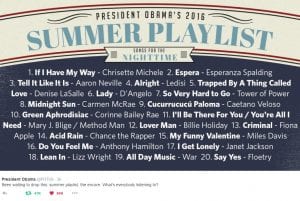 So will you be giving the Summer Playlist a spin?  If so, share your thoughts in the comments.
Floetry says it best… all you gotta do is Say Yes.