In Texas, we talk alot about the "Big D".  But it might just be time to up the conversation about the "Big H".
According to the UK based Globalization and World Cities Research Network, the leading academic think tank on cities in globalization, the city of Houston has been doing some B-I-G things of late.  So big that we've managed to garner the world's attention.  For the first time ever, Houston has been ranked as an Alpha World City by the GaWC, and also marks the first city in Texas to claim the distinction.
The new report sees the Big H out rank  other American cities like Denver, Atlanta, Boston and even our in-state neighbor Dallas.
In previous rankings, the Texas urban titans of Dallas and Houston were both classified as Beta World Cities.  Dallas retains its ranking from the previous report.
Per the group's own metrics, the rankings are a measurement of how well a major city and its regional economy are integrated into the world economy.  Given Houston's continued standing as one of the world's leading energy captials, the ascent to Alpha status in comparison to other Texas metros may come as less of a surprise.  But even outside of the immediate energy realm, Houston's recent advances in areas like healthcare, education and transportation have also proven to have a global impact.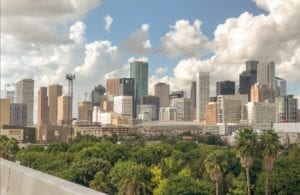 Photo Credit:  L. Wayne Ashley for Ingressive Media