I know I know… Say it Ain't So!!
Here's the info direct from Lone Star Q…
Democratic Texas Congressman Joaquin Castro says he'll boycott Buc-ee's after the popular roadside megastore chain endorsed right-wing Republican Dan Patrick for lieutenant governor.

"Won't gas up there anymore since they support a fear mongering immigrant basher," Castro, D-San Antonio, wrote on Twitter on Monday.

"Wonder how Bucees patrons in Freeport, Lake Jackson stores feel abt their endrsmnt of DP who spoke abt immigrants bringing diseases to TX," Castro added.

Patrick was the top vote-getter in last Tuesday's primary, and he is favored to defeat incumbent David Dewhurst in a runoff for the GOP nomination. The winner will face Democrat Leticia Van de Putte, who is Latina, in November.

"To my great delight after our win Tuesday I got a call from the owners of Buc-cees who said they wanted to meet and support me," Patrick wrote on Facebook on Sunday, above photos of himself with the chain's beaver mascot and its two owners.

Patrick once said immigrants are bringing "Third World diseases" to the U.S., and he recently called immigration from Mexico an "illegal invasion." Patrick has challenged Congressman Castro's brother, San Antonio Mayor Julian Castro, to a debate on the issue. Mayor Castro retweeted his brother's tweet about Buc-ee's on Monday.
Buc-ee's is quickly becoming one of Texas' most beloved roadside institutions. It's a must-stop for me any time I pass by one of the flagship stores. Even when I don't buy a lot of stuff, I love to go in, rest my eyes from the road and just look at all of the quirky items they have on display. And of course, SUCH CLEAN BATHROOMS… I mean it boggles the mind!!
As much as one may love Buc-ee's, Dan Patrick is reason enough to join Congressman Castro in the boycott. All the Beaver Nuggets in the world can't make up for the terrible things Patrick says on an almost daily basis. It's time to send a message to Arch "Beaver" Aplin III and Don Wasek (pictured below with Patrick in the middle) that everyone doesn't agree with the State Senator's views. And lest you think that the owners of Buc-ee's are perhaps naïve of the political sphere, think again. Aplin ran for political office back in 1996 and is a proud Republican, so he knows what he's getting into. Of course there's nothing wrong with being a proud Republican, but Patrick's anti-immigrant, anti-LGBT views are far too extreme.
If you choose to join the boycott, you can also use Buc-ee's online contact form to let them know why. Let's find out how much they care about customer feedback.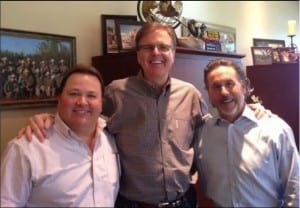 (photo credit: Dan Patrick Facebook page)