Some very exciting news may be ahead for LGBT Texans, as reported by John Wright in the Texas Observer…
Last week, plaintiffs in a federal lawsuit challenging Texas' marriage bans asked U.S. District Judge Orlando L. Garcia to lift his stay of a February decision striking down the bans. If Garcia lifts the stay, it could create a window for same-sex marriages to occur in Texas before Republican Attorney General Greg Abbott can seek a new stay from the U.S. 5th Circuit Court of Appeals, which is set to hear oral arguments in the case on Jan. 9.

[…]

"I don't think there is anything keeping them from issuing the licenses once the stay is lifted, but an argument could be made that they aren't required to do so until it [the outcome of the case] becomes final," Upton said.

Fortunately, same-sex couples from Fort Worth will be able to obtain licenses in Dallas, where Democratic clerk John Warren said he's prepared to issue them.

"You take an oath to uphold the law, and if the law changes, you've got to do it," Warren said. "If the law says I can't, then I won't. If the law says I can, then I will."

Democratic Republican Bexar County Clerk Gerhard C. "Gerry" Rickhoff said in addition to keeping his office open 'round-the-clock, he's considering setting up tables in Main Plaza to accommodate same-sex couples. Rickhoff said he's also lined up district judges to waive a 72-hour waiting period before ceremonies can occur, as well as officiants to conduct them.

"There's a pent-up demand to stop these civil rights violations that are pretty evident," Rickhoff said. "I would imagine they'll be driving into San Antonio in droves, and that's what we're prepared for. Nobody will be turned away. We'll work until there's nobody left."

Democratic Travis County Clerk Dana DeBeauvoir said her office will also be ready to extend its hours if Garcia lifts the stay.
This same "marriage window" occurred earlier this year in the state of Arkansas, where a judge struck down the state's ban on same-sex marriage, but state Attorney General Dustin McDaniel did not file an emergency stay upon appeal of the judge's ruling.  As a result of this window, 541 couples were able to marry in the Natural State, but for now the validity of those marriages is in legal limbo.
But Arkansas seems to be following a very familiar playbook… that of California.  Because of the marriages established for the state beginning in 2004, the Supreme Court had no choice but to strike down California's ban once and for all in 2013.  These are all important steps in the process.  It's one thing for a state to ban any and all possibilities of marriage.  But once people are allowed to obtain official marriage licenses from any counties willing to issue them, it's going to be hard for Texas to keep up appearances with the state's marriage ban.
So there you have it… we've got at least 3 Texas County Clerks that are ready to start issuing same-sex marriage licenses at any time.  Let's hope that judge Garcia lifts the stay soon, and if you're an interested couple that doesn't live in Dallas, Austin or San Antonio, get your bag packed for a quick trip!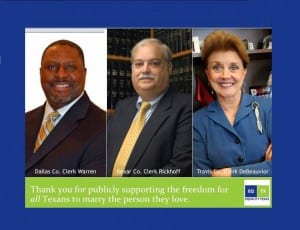 (Photo credit:  Equality Texas)