Is 2014 the year that Disco makes a huge comeback??
If DJ Cassidy has anything to do with it, the answer is a resounding yes.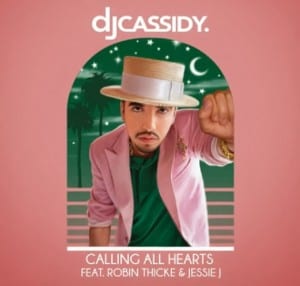 Cassidy's upcoming album, titled Paradise Royale and expected to be released this spring, is something seldom attempted in contemporary "pop" music… a full-on exploration of the Disco genre, using the talents and expertise of the original musicians. But it's not a cover album. Greats like Nile Rodgers, Phillip Bailey, Verdine White and Patrice Rushen join forces with some of today's biggest stars to create all new, original tunes. Here's more from DJ Cassidy in a recent interview with Billboard.com…
Cassidy began the process by assembling a playlist of 25 of his favorite dance hits from that era and making notes about which musicians played on them. "What I saw was the same names repeating over and over again," Cassidy recalls. "It became apparent that the recording artists and producers of these songs were recruiting the same session musicians. Those were the men behind the music, the architects of the sound. At that point I realized that in order to fulfill my mission I needed to go back to the source." He ultimately recruited 22 musicians for the recording, while making a deliberate decision to use modern hit makers for the vocals.
Those 'modern hit makers' are the likes of Jessie J, Robin Thicke, Kelly Rowland, John Legend and a host of others.
The lead single for the album is Calling All Hearts… due to be released in February. And if this track is any good predictor, expect big things from this album. The beat is driving, infectious, and proves to be a real relief from the reigning trends in dance music. The use of real instruments and real production is a real gem in a world where we've grown accustomed to manufactured sounds. As a result, doing things "the old way" sounds as new and as fresh as ever. It's quickly become my favorite song of 2014. Check it out, and decide for yourself.
Updated March 4th to include the Music Video for Calling All Hearts!!